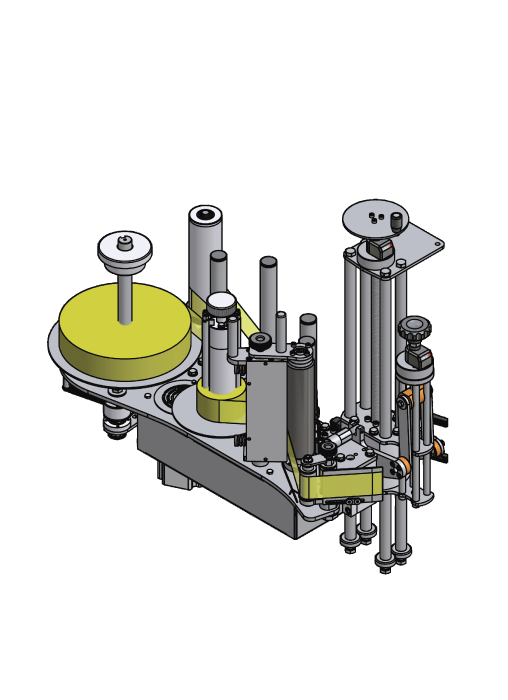 Labelling machine quality is determined by labelling head quality. GAI labelling stations made are manufactured after great analysis, without compromise and utilising modern technology. The supports ensure no vibration. Easily visual number indicators assist with precise height adjustments. Angular adjustment of the certification station allows for easy application of shoulder labels, combined with numerical measuring precision. A second angular adjustment aids in the correct positioning of a neck label. The stepper motors on each station cater for +/- 1mm application tolerance. Station construction ensures rigidity, with precise labelling application. The paper route is clearly marked on each station, aiding operator efficiency.
1. PHOTOCELL UNIT
With the new support, an ultrasonic photocell (optional) can be fitted to read clear labels together with an optical photocell to read non-transparent labels. Which photocell to use can be selected on the panel and stored for each bottle format.
2. PAPER INFEED UNIT
The paper infeed unit is the heart of the labelling station. It has been designed with a profile that maximizes the grip and prevents the paper from slipping on the roller. Special springs recover any play, guaranteeing consistent operation over time and in different working conditions.
3. REEL BRAKING/PAPER TIGHTENING UNIT
This innovative independent spring-operated unit is used to brake the reel and then tighten the paper. This means that the tightness of the paper is constant, which is a fundamental requirement for high quality labelling.
4. PAPER RECOVERY UNIT GAI is introducing a new technique for the recovery of the paper after the label has been peeled off. A connecting rod system facilitates both the blocking and releasing of the paper. The difference in internal diameter produced makes it easy for the paper to be removed at the end of operations.