GAS INJECTION UNDERNEATH THE LID
The can is transported by the star S on the plate P under the gas injection and seaming station. Gas coming from the dispenser D, through a channel dug into S star, flows into the space between the L can and the relative C lid. Injection of neutral gas is essential to substantially reduce the quantity of oxygen present in the space between the liquid and the lid. During the injection the rotating piston P raises the can, that picks up the lid and then brings them against the rotating M chuck. The seaming operation stars now. The gas pressure is adjustable in order to obtain the most suitable flow according to the production speed. The neutral gas dispenser and inlet device can be easily sterilize to preserve the best hygienic conditions.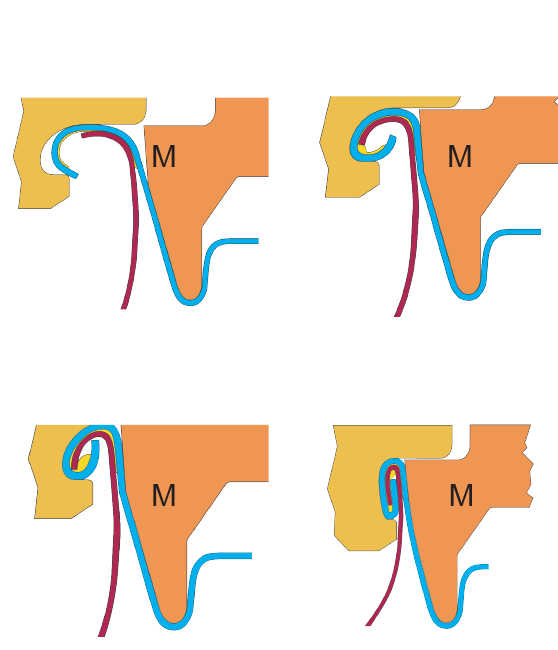 The seaming operation takes place in two distinct stages, this guarantee perfect sealing. The can is raised up by the piston against the chuck and rotated by both devices. The 1st operation roll R1 is mechanically brought against the lid, held by the M chuck, and then dragged into rotation. 1. Start of 1st operation seam formation 2. Partially formed 1st operation seam: forming the end curl under the flange 3. Finished 1st operation seam formation The roll R1 moves away and the 2nd operation roll R2 stars its function; this last is pressed against the first seam to complete the operation and finally seal the lid on the can. 4. Finished 2nd operation seam formation: seaming completed. The can is then transferred from the outlet star toward the monobloc outlet.