INJECTION OF NEUTRAL GAS PRIOR TO CORKING
This is a very important operation on account of its many functions:
1) IT DRASTICALLY REDUCES OXIDATION. With a filling level of 60 mm and a 45 mm cork, the oxygen is reduced from 1.4 mg to 0.25 mg per liter of wine in corking and from 1,8 to 0,39 mg in 42901 screw capping.
2) IT COMBATS CORK LEAKAGE. The CO2 dissolves into the wine, eliminating the pressure between the wine and the cork (using CO2).
3) THE GAS INJECTOR CAN ALSO BE USED TO CONTROL THE FILLING LEVEL. The standard level tolerance is reduced from ± 2 mm to ± 1 mm. The gas injector is supplied with a dummy bottle, making it easy to sterilize.
INERT GAS INJECTION PRIOR TO CAPSULING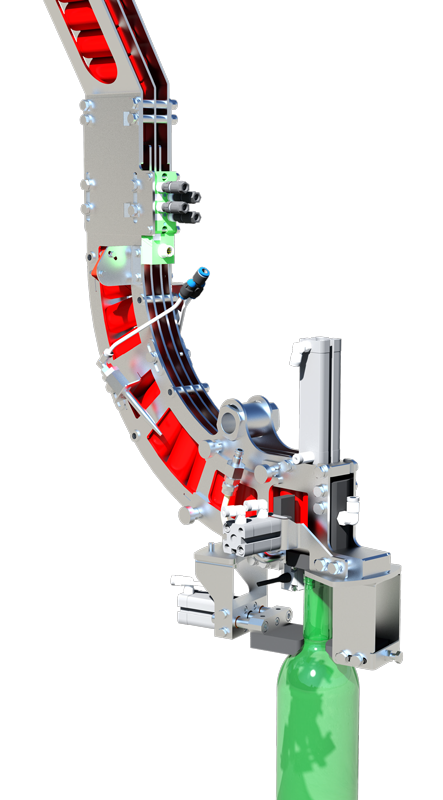 In use for the distribution of screw capsules type 42901. The injection of gas takes place a fraction of a second before the capsule is placed on the bot-tle. Blow at the same time both inside the cap-sule and in the neck of the bottle (see diagram on the side). The pushing of the capsules on the bottle is obtained with a pneumatic cylinder. This system significantly reduces oxidation