FILLING WITH ELECTROPNEUMATIC VALVE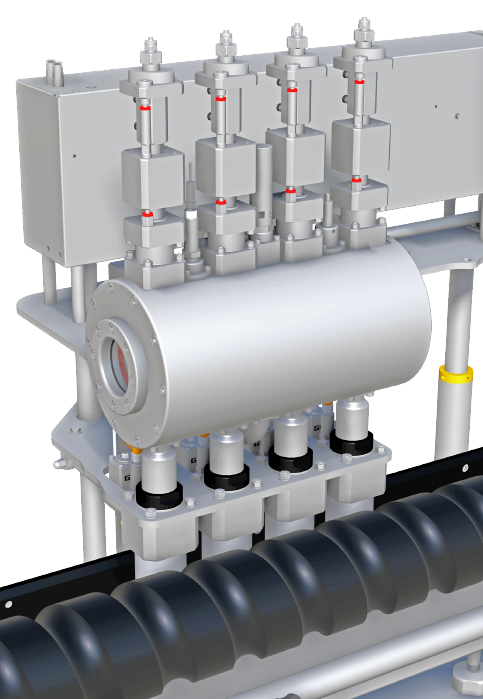 1) FLEXIBLE FILLING
It can work at atmospheric, light or high pressure, 4 bar maximum, simply setting the working pressure from the control panel. This allows to fill cans with still or sparkling liquids.
2) LEVEL ADJUSTMENT
Automatic and centralized level adjustment.
3) DOUBLE CHANNEL STRUCTURE WITH LOWER CLOSURE
The filling and gas return channels closure close to the can level allows precision even without levelling. Moreover, it improves the degassing phase because it eliminates any perturbation caused by the product degassing contained in the gas return channel. The production gain, in particular for sparkling products, is remarkable.
4) SANITIZATION CYCLE SECURITY
The electropneumatic functioning valves matched to dummy can create well defined sanitization cycles and more efficient than traditional filling valves. This not only improves sanitization quality, but it also allows it to be carried out safely for every circuit on the filler.
5) OPERATING CYCLE ITERATION
The filling cycle, managed with timing phases, secures the maximum working cycle iteration; letting it unaffected to speed variations on the production line. The time administration allows the improvement of the working phases, increasing the productivity.
6) CAN PRESENCE CHECK
The can presence is noticed by a photocell at the mono-bloc entry. After this first reading, a second signal is sent by a proximity assembled on the cans lifting pedestal. The two signals let the filling cycle start.
7) PRESSURE TRANSDUCER
The pressure transducer, on the edge of every spout, allows checking the can pressure in every moment so to control that the filling cycle is carried out correctly and to find possible anomalies or mis-operations.
8) FORMAT SAVING
The filling cycle is set through the control panel and it does not require any manual intervention on the filler. Saving cycles and recalling them simplifies and speeds up the changing format operation. This guarantees a more uniform production.