Prospero Equipment
The collaboration between Prospero and GAI has provided both companies a strong, solid foundation in the American filling market.  GAI offers a wide range of customized filling machines for still, carbonated, spirits and viscous liquids. This wide range of filling machines operates with a wide variety of container designs and closures.  On select models, GAI monoblocks have the option of standard block, adjustable or universal change parts.  Universal feed screws are also available on select models.
GAI offers filling machines with production speeds from 500 to 24,000 bottles per hour.
GRAVITY FILLERS FOR STILL PRODUCTS UP TO 3,000 BPH
GAI X Family, Models '0X, '1X, '2X, '3X, '5X, '6X
GRAVITY

FILLERS FOR STILL PRODUCTS FROM 3,000 UP TO 15,000 BPH

GAI FMT & FMA Series, designed for high production speeds.
ELECTRO-PNEUMATIC FILLERS FOR STILL & CARBONATED PRODUCTS UP TO 20,000 BPH
GAI MLE, HP & LP Series, filling products from 0 to 8 bar working pressure.
CAN FILLERS UP TO 12,000 CPM
GAI CAN - Electro-pneumatic valve can filler for products from 0 to 4 bar working pressure.
MECHANICAL & ELECTRO-PNEUMATIC FILLERS FOR BEER UP TO 24,000 BPH
GAI FM / FE / RE BIER Electropneumatic and Mechanical Valve Family.
FILLERS FOR HIGH DENSITY PRODUCTS
For viscous products from 1,000 to 10,000 bottles per hour.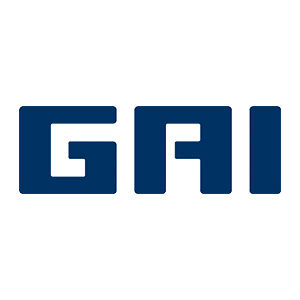 GAI 
For over 70 years and three generations, GAI has established several milestones in the development of high quality bottling and labelling machinery throughout the world. GAI's product range has grown from wine to include carbonated beverages, spirits and viscous liquids. GAI now offers electro-pneumatic volumetric can filling to their filling machine portfolio. GAI is known for creating machines that are easy to use, reliable and timeless.